Descrizione del prodotto
The Chain is one of JOC Machinery's leading products, our sales on Chains hit 2 million dollars in 2012 and which is promised to increase in 2013. Mainly we manufacture Chains for mining, power station using (Grade 5 ~ 8). We will no problem to meet your local standard on Chains such as Breaking Force, Elongation and so on. We also manufacture common Chains (Grade 3) with competitive pricing.
Your kind attention and inquiry to our company will be highly appreciated and we do hope that we can establish good business relationship with you, by providing our good quality and service.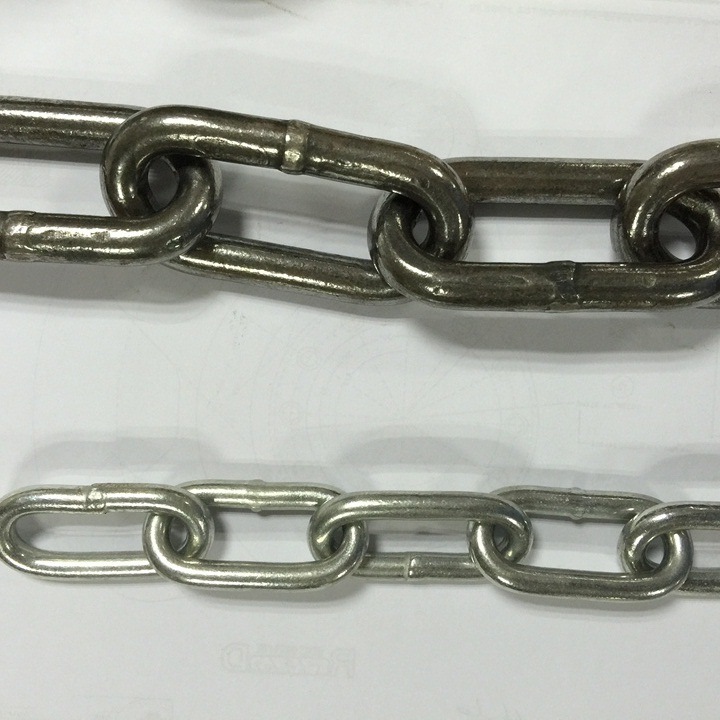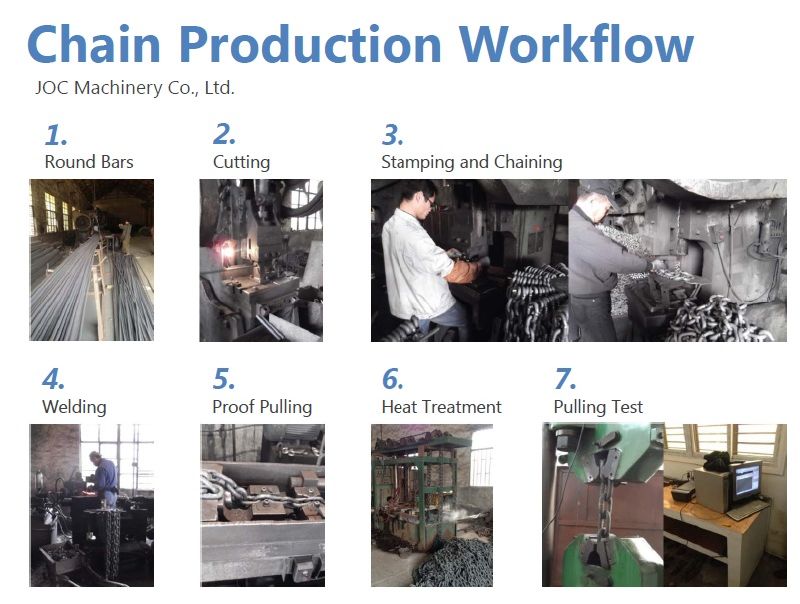 1. Lifting Chains
*Standard: EN818-2
*Application: Lifting
*Material: High Quality Alloy containing Cr, Ni, Mo
*Grade: G80
*Finish: Oiled, Black, Galvanized, Paint
Dimension(d)
mm
Inner Length(p)
mm
Width
Weight
(kg/m)
Working Load Limit
(T)
Test Load
(KN)
Min Breaking Force
(KN)
Min (a)
Max (b)
6
18
7.8
22.2
0.8
1.12
28.3
45.2
7
21
9.5
25.9
1.4
1.5
38.5
61.6
8
24
10.4
29.6
2.2
2
50.3
80.4
10
30
13
37
3.3
3.15
78.5
126
13
39
16.9
48.1
3.8
5.3
133
212
16
48
20.8
59.2
6.7
8
201
322
18
54
23.4
66.6
7.3
10
254
407
19
57
24.7
70.3
8
11.2
284
454
20
60
26
74
9
12.5
314
503
22
66
28.6
81.4
10.9
15
380
608
26
78
33.8
96.2
15.2
21.2
531
849
30
90
38
106
20.3
28.3
706
1130
32
96
41.6
118
23
31.5
804
1290
34
102
44.2
125.8
26
36.3
906
1452
40
120
52
148
36
50
1260
2010
42
126
54.6
155.4
40
55.4
1385
2218
2. Mining Chains
*Standard:GB/T12718-2009
*Application: Coal mine/ Transport
*Material: High Quality Alloy containing Cr, Ni, Mo
*Grade: B/C/D
*Finish: Black, Galvanized, Paint
Dimension(d)
mm
Inner Length(p)
mm
Width
Weight
(kg/m)
Test Load
(KN)
Elongation under T.L%
Min Breaking Force
(KN)
Total Elongation under T.L%
Class
Min (a)
Max (b)
10
40
12
34
1.9
85
1.4
110
12
B
100
1.6
130
12
C
130
1.9
160
12
D
14
50
17
48
4
150
1.4
190
12
B
200
1.6
250
12
C
250
1.9
310
12
D
18
64
21
60
6.6
260
1.4
320
12
B
330
1.6
410
12
C
410
1.9
510
12
D
22
86
26
74
9.5
380
1.4
480
12
B
490
1.6
610
12
C
610
1.9
760
12
D
24
86
28
79
11.6
460
1.4
570
12
B
580
1.6
720
12
C
720
1.9
900
12
D
26
92
30
86
13.7
540
1.4
670
12
B
680
1.6
850
12
C
850
1.9
1060
12
D
30
108
34
98
18
710
1.4
890
12
B
900
1.6
1130
12
C
1130
1.9
1410
12
D
34
126
38
109
22.7
900
1.4
1140
12
B
1160
1.6
1450
12
C
1450
1.9
1810
12
D
38
137
42
121
29
1130
1.4
1420
12
B
1450
1.6
1810
12
C
1810
1.9
2270
12
D
42
152
46
133
35.3
1390
1.4
1740
12
B
1770
1.6
2220
12
C
2220
1.9
2770
12
D
3. Germany Standard Chains-DIN 5685
*Standard:DIN 5685
*Application: Transport/Bundle
*Material: High Quality Alloy containing Cr, Ni, Mo
*Grade: A/C
*Finish: Oiled, Black, Galvanized, Paint
Dimension(d)
mm
Inner Length(p)
mm
Outer Width (b)
Weight
(kg/100m)
Working Load Limit (KN)
Breaking Force
(KN)
Class
6
24
24
73
4.5
11.5
A
42
63
C
6.5
26
26
86
5.4
13.5
A
45.5
74
C
7
28
28
100
6
15
A
49
86
C
8
32
32
130
8
20
A
52
110
C
8.5
34
34
149
9
22.5
A
56
125
C
9
36
36
165
10
25
A
59
141
C
10
40
40
205
12.5
31
A
65
175
C
11
44
44
250
15
38
A
72
211
C
12
48
48
290
18
45
A
78
255
C
13
52
52
345
21.2
53
A
82
295
C
4. Germany Standard Chains-DIN 763
*Standard:DIN 763
*Application: Transport/Bundle
*Material: High Quality Alloy containing Cr, Ni, Mo
*Grade: According to the Customer's request
*Finish: Oiled, Black, Galvanized, Paint
Dimension(d)
mm
Inner Length(p)
mm
Min (a)
Max(b)
Weight
(kg/m)
Working Load Limit (T)
Proof F (KN)
Min Breaking Force
(KN)
-
Tolerance (+/-)
-
Tolerance (+/-)
4
0.2
32
1
7.2
16.8
0.27
0.10
2.5
6.3
5
0.25
35
1.1
9
21
0.43
0.16
4
10
6
0.3
42
1.3
10.8
25.2
0.63
0.20
5
12.5
7
0.35
49
1.5
12.6
29.4
0.86
0.30
7.5
19
8
0.4
52
1.6
14.4
33.6
1.1
0.40
10
25
10
0.5
65
2
18
42
1.75
0.63
14
40
13
0.65
82
2.5
23.4
54.6
2.95
1.00
25
63
16
0.8
100
3
28.8
67.2
4.45
1.60
40
100